Some of the gamers are obsessed with the gameplay experience of Nintendo Switch. Nintendo Switch is one of the most innovative best handheld gaming consoles. One can use this portable gaming console at home as well as on the go. But sometimes a person may prefer to play the marvelous Nintendo Switch games on laptop or PC. Then how to connect Switch to laptop to experience the awesome gaming experience on laptop as well?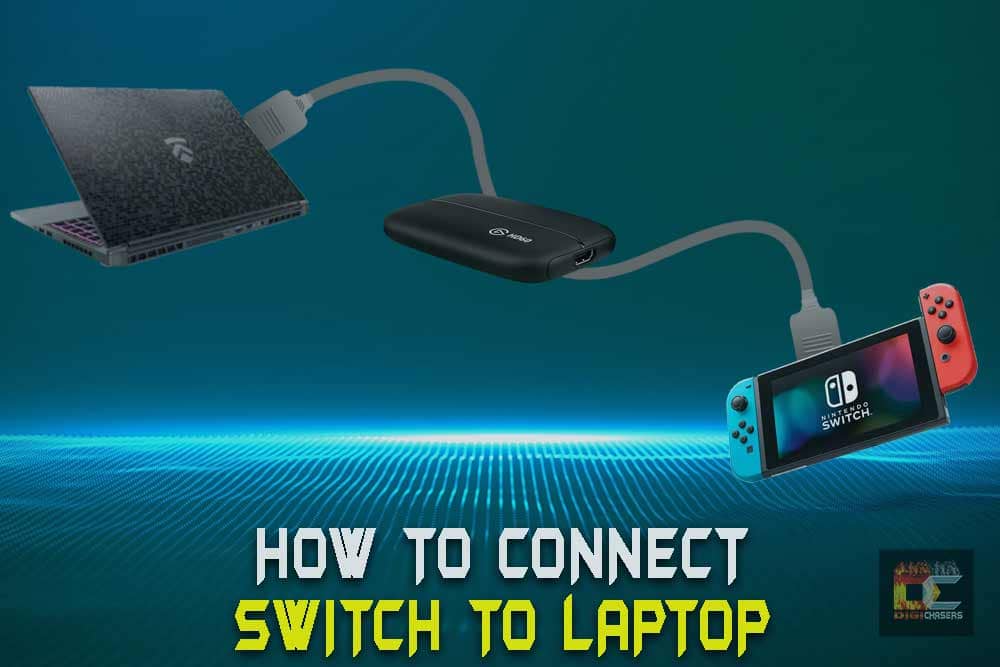 In this ultimate guide, everything regarding playing Nintendo Switch on a laptop or PC is covered. This detailed post will provide you with an easy and effortless method, plus an alternate method on how to connect switch to laptop or PC?
Recommended to Read: Most Premium Laptops to Buy
How to Connect Nintendo Switch to Laptop?
When playing Nintendo Switch on a laptop or PC, you actually use the screen of the laptop or PC as your gaming screen. It may seem confusing and difficult at first, but keep reading and everything will become crystal clear. As a result, you will get a Nintendo Switch gaming experience on a bigger, better screen using these methods.
What is Nintendo Switch?
Nintendo Switch is the product of the renowned Japanese video game company Nintendo. Initially Nintendo used to produce the handmade Hanafuda Playing Cards. But at this moment, Nintendo is one the best video gaming production company in the world.
The Nintendo Switch is one of the most popular video game consoles available today, released globally in most regions in 2017. This gaming console is designed in such a way as to enjoy the ultimate gaming experience on the go. Whether at home, coffee shop, a park or any other place, the Switch is going to be your best gaming buddy everywhere. The TV Mode, Tabletop Mode and Handheld Mode of Switch allows you to transform this gaming console in any setup.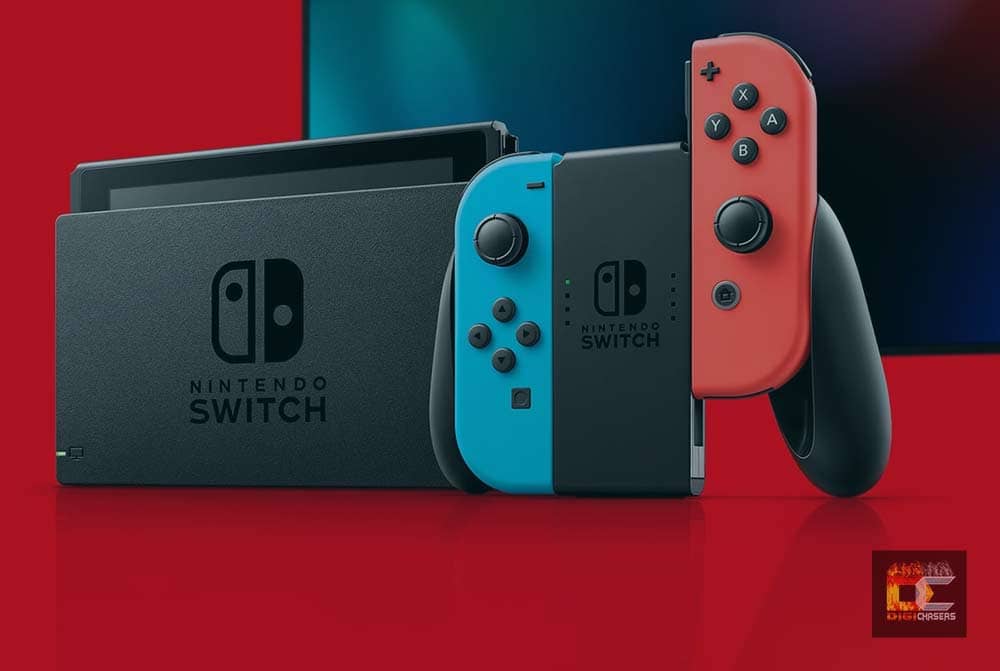 Due to portability, 2000+ readily available games and easy setup, Nintendo Switch is an all in one gaming setup for everyone.
You may get all Nintendo Switch resources such as console, dock, games, etc. from the link below:
Nintendo Switch Resources – All in One Page
Things You Need to Connect Switch to Laptop
Let's first take a look at the main requirements to connect a switch to a computer or laptop before getting into step-by-step detailed instructions.
How to use Laptop as Monitor for Switch
Nintendo Switch Dock
In order to display Nintendo Switch gameplay on television (using TV Mode), a Nintendo Switch Dock is used. You will get this dock once you purchase your Nintendo Switch directly from Nintendo or any official seller.
For connecting Switch to laptop, Dock is the most essential requirement. The Switch will remain inside the Dock this whole time you are playing on a laptop or PC. This is much the same as once you use Switch inside Dock to display it on your TV screen.
If your Dock is broken or you didn't get it with your console, you can easily get any of these from Amazon.
Video Capturing Card
Using a Video Capture Card (VCC), one can enjoy the ultimate gaming experience of gaming consoles on a PC or laptop. A capture card has all the necessary ports required for connecting console or switch to laptop or PC. There is an HDMI input as well as output port, plus a USB port. This provides gamers with easy connectivity and setup of their Switch console to play on laptops or PCs.
If your laptop is having a Type-C port, then you must go for a VCC with USB Type C support. In this way you will get an amazing in-depth gaming experience. However, if there is not USB C port, you can still enjoy the awesome gaming experience with good resolution and FPS.
Some of the best Video Capture Cards that you must buy are:
HDMI Cable
To connect switch to laptop, HDMI cable is an essential requirement. Luckily, you don't have to search for some specific or separate HDMI cable. The Switch as well as Video Capture Cards, both come equipped with a HDMI cable in the box. Both these cable are perfect for connecting switch to a laptop to enjoy the seamless audio as well as video experience.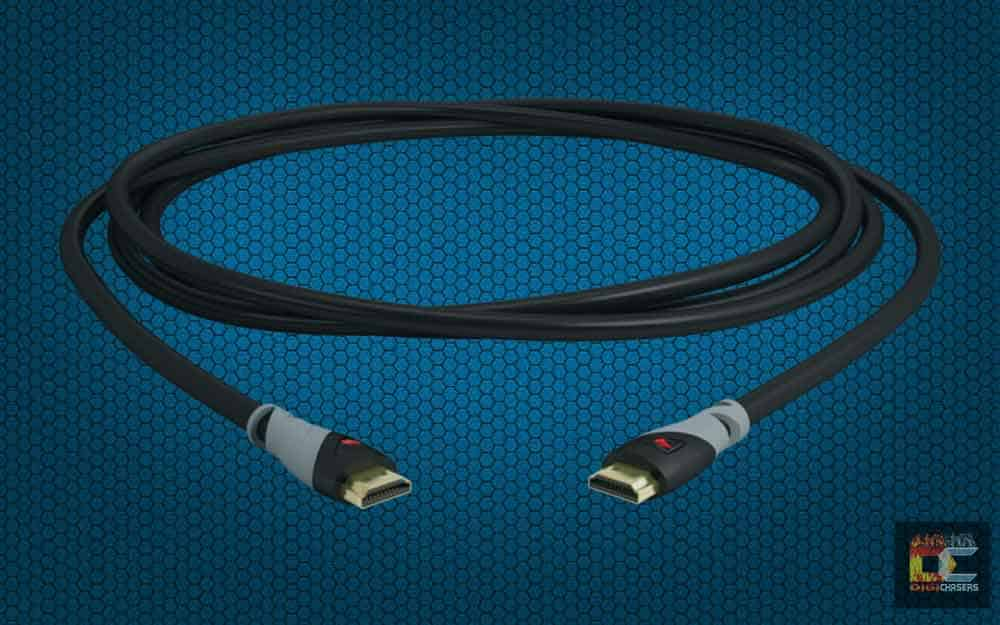 However, if you want an HDMI cable of longer length or much better quality, you can buy one of these recommended HDMI cables.
Video Capturing Software
The Video Capture Card needs a software to control the Switch and work with the laptops. In general, every VCC has its own capturing software available for free on their website. However, you may go for the one from Elgato, which is free to download and allows both 720p as well as 1080p streaming. This capturing software allows users to enjoy the seamless gaming experience without experiencing lags.
Recommended to Read: Extend Battery Life of any Laptop
Laptop
You are connecting a Switch to laptop, but don't have a laptop? LOL! Well a laptop is the most essential requirement for this process. For this process, the laptop must be equipped with a USB port. This USB port of the laptop will be utilized for connecting to Nintendo Switch via VCC.
Some older generation laptops will not work for this method. If you don't own a good gaming laptop, then you can go for one of these recommended laptops for Nintendo Switch.
Nintendo Switch
And last but not the least, one must own a Nintendo Switch for this process. If you don't own a Nintendo Switch, get some good deals from below:
How to Connect Nintendo Switch to Laptop? Step by Step Method
After discussing all the requirements, now let's discuss the step by step method to connect a Switch to a laptop:
First of all make sure your Dock is not connected to your TV screen. If it is connected, unplug the HDMI cable from TV.
Now connect the Nintendo Switch to its Dock in normal manner. One need to just insert the cable of the Dock into the Nintendo Switch Type C jack.
Connect the Nintendo Dock to Video Capture Card using HDMI cable. Make sure to insert the HDMI cable in "HDMI In" (Input port) of the Video Capture Card.
Switch ON your laptop and open your desired Video Capturing Software.
Pressing Home button on the controller, switch ON the Nintendo Switch in same docked position.
Using USB cable of the VCC, connect the Capture Card to your laptop. And voila! Just in few moments, laptop will display the home screen of your Nintendo Switch.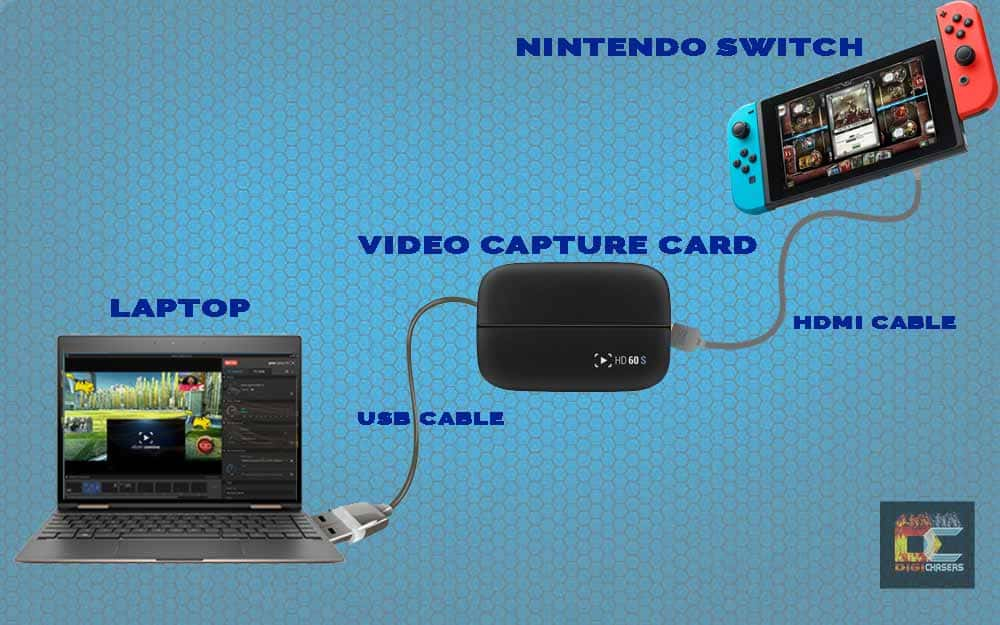 Now you may use Joy-Con for controlling the Nintendo Switch on your laptop.
Whether you want to play full screen on the big display, stream live, perform gameplay recording and playback, or chat or do a live commentary, everything is possible at your fingertips.
In addition to gaming, you may also control your laptop or PC using Nintendo Switch. Thus, you can be more productive with hassle-free multitasking.
Alternate Method to Connect Switch to Laptop
In case this method doesn't work, then you may opt for two other alternate solutions to enjoy Nintendo Switch on laptop:
Most of the times this method doesn't work due to old generation laptops. These laptops don't support the Video Capture Cards and as a result one cannot enjoy the ultimate gaming experience. So, make sure you have got a good laptop with some recommended specs. Some of these best laptops you can go for are given in the above section.
Nintendo has a library of 2000+ games compatible with Nintendo Switch. Out of these games, you will find hundreds of games readily available for Windows as well. You may go for some free games or buy some premium games as well.
Connect Nintendo Switch to a Laptop – FAQs
Some of the most frequently asked questions regarding playing switch on laptop are:
Can I connect Nintendo Switch on my PC?
Yes, you can easily connect Switch to your PC using the similar method for laptop. You will need a Video Capture Card and HDMI cable to perform this operation. Then using a Capture Software, you can easily play Nintendo Switch on your computer.
Is it Possible to Record Nintendo Switch Gameplay on Laptop?
After connecting Switch to a laptop or PC, using the above method, you can easily play as well as record your gameplay. Some of the latest version Video Capture Card allow recording your gameplay instantly using the built-in manufacturer software. However, for some of the older versions, if this feature is not available, you may use a third party application like Bandicam to record your Switch gameplay.
Can I connect Nintendo Switch to laptop without a Game Capture Card?
Honestly, this operation is not possible without using a Capture card. Video Capture Cards are specially designed to make it possible to play a gaming console on laptop or PC. That is why, if you do not own a Capture Card, you have to rely on the Nintendo games available for windows.
My Video Capture Card is not having a default software?
VCCs that you buy will come with their default software for operation. However, if you got a VCC that doesn't come with its default software, you can use the Elgato Universal Game Capture Software that you can use with almost any Video Capture Card.
I have lost or broken my Nintendo Dock, What to do?
In case you lost or damaged a Nintendo Dock, you don't have to worry. You may order a brand new compatible dock for just a few bucks and enjoy the endless gaming experience on laptop. In above section, we have mentioned some of the best Nintendo Docks that you can get easily in most affordable price range.
Connect Switch to Laptop – Final Conclusion
In this detailed guide, we have discussed a complete step by step method of how to connect switch to laptop? One must proceed with this method once all the essential requirements such as Dock and Video Capture Card are available. If you have another great method to play Nintendo Switch on a laptop, let us know in the comments.