NAS for plex server is a form of external memory or storage that connect to a network or plex server rather than connecting to a single PC like normal hard disk. Its benefit over a hard drive is it can be accessed from different devices within a network and multiple users can use the data at the same time. If needed, the data inside NAS can also be accessed remotely, if allowed by your NAS setup. So do you want to know about what is best NAS for Plex?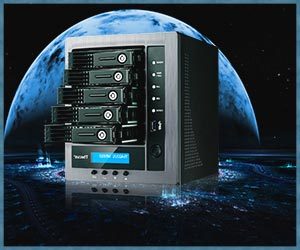 It allows users to share as well as retrieve data easily, specifically those sharing the same storage remotely. By connecting to a network, it becomes easier for distributed users to access folders and files remotely from any device connected to that particular network.
Best NAS for PLEX 2021
NAS come in different shapes and specifications, from home based small devices to large scale products for organizations and enterprises. In this article we will throw light on some of the best NAS available in market for home as well high scale businesses.
Below we have listed some of the Best NAS for Plex Server for you. To help you decide and choose what is best for you. You can find detailed review regarding each of these Top 12 Network Attached Storages for Plex along with the sections comprising of our likes and dislikes related to these NAS. Furthermore, Pros and Cons of each of these NAS are also described, to help you decide and select a best product easily.
Recommended to Read: Best Mini Hidden Cameras for Home
At the end, you will find a comprehensive but easy guide. You will also find a detailed infographic, explaining what is NAS? And what are the important features of a Network Attached Storage? And How to compare different NAS? Which devices are supported by NAS? So you can analyze all NAS for Plex using these guidelines. Then go for your final choice even if you do not find it in our given list.
1. Drobo 5N2 Plex – Best Storage Capacity NAS
After developing two Network Attached Storages: the Drobo FS and Drobo 5N, Drobo threw their third Updated NAS into market in form of Drobo 5N2. The toaster look a like design of 5N2 is almost same like the older versions.
But, performance and specification-wise it is well updated, more powerful and efficient. With five drive bays it can hold the disk failure twice without losing any data. The quad-core Marvell ARM processor is way more powerful than those used in the predecessors of Drobo N52 making it comparatively very fast. It also uses two ethernet ports unlike the older versions of Drobo that only uses one.
There are no rails to slide in the drives, so you just need to push the drives inside, which can be removed by pushing aside the securing clip, forced out by a little but string spring. After inserting the drives and plugging in the Ethernet, plug in the power and here you go, your device is all set to start.
This NAS device's performance may be a little lower than other competitors but much better than the other products of Drobo. It feels like working on a flash drive when connected initially apart from some latency. The transfer rate of a large single file can reach almost 90MBs/sec and a 35MBs/Second for small but various files in single transfer. The overall performance, from writing data on drive, or reading the data, or opening large files or editing HD videos by accessing from it directly, was very good, fast and effective.
Drobo 5N2 Software & App Store
The Drobo N52 is run by a Drobo Dashboard software that can be downloaded from the official website for Windows and Mac operating systems. You can also control it through web interface but it won't be much handy because of the technicality. The dashboard is a user-friendly interface and initially it will detect your device itself after which you can setup the admin account and initiate customizing.
Drobo also has their own app store from where all the basic software can be downloaded. The apps are not million in numbers but to cover all the basic grounds like apps for photo backup or remote access. There are also apps that can be used for backup of NAS. It also offers mail clients and WordPress installs.
The NAS Comparisons always include the clause of data protection and recovery of data, the one providing these two are listed in best NAS list. Fortunately, Drobo 5N2 is great here on both ends. It provides double or two disk redundancy that means you can recover your data twice before losing it forever. The default redundancy is one disk which can be change to two disks from within the settings.
For data protection it uses one of the best Raid for NAS known as BeyondRaid which is not like a typical Raid 5 or 6. It benefits in allowing both mixed sizes disk and easy expandability.
What We like?
The dashboard used by Drobo 5N2 is one of the best features as the graphical user interface make it easy for users to understand the overall setting up of device. Also, it covers your basic need by offering number of apps in Drobo store.
Furthermore, It is a highly scalable network storage array with 64Tb filesystem support with 2x Gigabit Ethernet Connectivity and can hold up 5x 3.5" SATA HDDS making it one of the best NAS for plex.
It does not use the typical Raid 5 0r 6 rather it uses a more virtualized version BeyondRAID for data protection purposes and also can hold up to two times of hard disk failures. The data recovery is great and you should not really worry about losing your important data.
What We don't like?
The amazing drobo Dashboard is only available for Windows and MacOS and does not show support for Linux which is not good news for Linux users. They can control and set it up using the web interface but that is a complex process and may need sufficient technical knowledge.
Overall design is a bit old school and from performance perspective it falls behind some of the best NAS in market but still it is a lot better than 5N or drobo FS.
Also, the Drobo app store can be underwhelming for many people because of the little amount of applications there. They tried their best to cover all the necessary areas but users always want more and like to try different software for same function. They lag behind their competitors like QNAP in this field.
PROS
Sleek tool less design

Great Performance

Support for 5x 3.5" HDDS

2x Ethernet ports

Two Disks Redundancy

Easy setup
CONS
Drobo Dashboard shows no support for Linux

Limited Apps on Drobo App Store

Issues in cloud backup



Recommended to Read: Best Laptops for Students
The heavier and larger than typical 2-Bay NAS, Netgear Readynas Plex RN422 having two-line LED Display is one of the most good looking and eye catching NAS available in Market.
The overall design is a bit heavy and it seems that may be the drives are pre-installed but it is not true. It contains five buttons with blue light which can be used to maintain different features and settings of the device. On the front side just below the center of the screen you can see a single 3.0 USB port that can be used for the connectivity of external drives, another USB port can also be found at the back.
At the back of the device also houses a pair of gigabit Ethernet ports, an eSATA port and a power jack. The cover is metallic and black in color and you would need a screw driver to remove it. From the back RN422 looks like a mini version of desktop CPU.
NetGear ReadyNAS RN422 Software & Apps
RN422 uses web interface for its setup as almost all of the top class NAS for plex devices. It is a handy tool and easy to use. You can also use the front panel but it can be a bit tricky. Also, if your web interface is not working due to some reasons you can take the help of Netgear RAIDar Utility as an alternative for the web portal.
RN422 has a number of pre-installed applications in its ReadyNAS OS 6.8, like Drupal, BitTorrent etc. It has one of the best NAS OS. It also has got both iTunes and DLNA media servers for multimedia purposes. The only major thing it is missing is a good mail server which won't be issue for small business enterprises. So if you are looking for TV tuners apps, RN422 has got you covered with its ReadyNas Photo Server. Other Apps offered by it include Joomla, LimeSurvey, SugarCRM, PHP and Python etc.
The overall user experience is great although there are some glitches in initial setting up of the device. It offers a nice backup plan with the integrated backup capabilities like remote duplication and remote backup using FTP. It is also a fast-performing device due to the 1.5 GHz Intel Processor C3338 and a 2 GB of Ram. The writing speed can get up to 105 MBps while the reading can reach over 100 MBps.
What We like?
The app selection of Synology is very famous when It comes to network attached storage but the Netgear ReadyNas RN422 lock horns with it in this aspect. We got excited about the app collection of this device. It has covered many aspects like multimedia, photo editing, Backup, Programming, Documentation etc. in its rich application collection.
We also liked the faster experience it offers all thanks to the Intel Atom 1.5 GHz processor with 2 GB of RAM. It won't make you sit there for its copy paste or read write function and you can even do multitasking with it.
The Design is good looking and the overall exoskeleton is strong enough to withstand hard conditions. The metallic body makes it stronger and more durable. The drives are kept safe under the metallic cover.
What We don't like?
Although we loved its overall design and the rugged nature but it is a bit heavier than you may expect. Without the drives and with all the cables it can weigh up to 5 kg which may be not very feasible or lovable for some users.
Also, the RAIDar which is PC application of ReadyNas RN422 can be annoying in the start for some users. The function of this application is to locate your device and start the initial processing but the problem is it need a Java Run-time installation which is hefty on many IT admins.
PROS
Faster Experience

Modern 64-bit technology

Best Backup Support

Durable

Rich Applications Collection
CONS
Very heavy

Difficult to understand setup utility



Recommended to Read: Best Self Balancing Scooters for kids
While looking for the best NAS storage for home or small businesses you can not ignore the NAS Plex TeraStation 1200D Desktop by Buffalo. It is among the few on the list of best budgets NAS that also provide internal storage of up to 4 TB with Hard drives in dual bay storage solution.
The processor type is ARM with a 1.2 GHz of speed and a 512 MB DDR3 SDRAM making it a perfect product for small scale usage. On the rear side of the device a 2.0 USB port and a Giga Ethernet port are installed along with a Cooling fan and power input. The drives interfaces through SATA 3Gb/s technology.
Raid 0 and 1 which are considered as best Raid for NAS are offered by Buffalo TeraStation NAS Plex. Inside the package box, you will find a power adapter, an Ethernet cable, installation disk and a guide. On the other hand, the whole design is of solid black color with a red strip on the upper corner of removable front panel. The panel can be removed to expose the two plastic drive trays.
Buffalo TeraStation 1200D – Painless User Experience
The setup of Buffalo TeraStation 1200D can be managed by a web management interface. It gives you options like files sharing, drives selection, services and applications, networks, backup option and management of the web portal.
Inside the file-sharing tab you can setup different folders, manage users and groups and enable different file-sharing services. The drive tab gives you the options of setup of RAID and you can also set up external drives connected via USB port from this tab. Similarly, from services tab you can switch between different services like file-sharing or multimedia services.
Buffalo has done a tremendous job in overall production of the TeraStation 1200D as it is a smart choice for home applications or small-scale business. It is an easy to use device which is ready to go initially just by plugging in and then it's easy setup. The web interface is easy to understand and does not require any special kind of IT knowledge. Moreover you can also watch everything on your PC monitors at home with this gadgetry.
What We like?
Simplicity is the first thing we really loved about Buffalo TeraStation NAS for Plex server. The overall design is simple yet good looking with a removable front panel and not some complex ports on the rear side. Everything is one touch and you can remove the front cover to insert or remove the drives.
Also, it comes with a 4 TB of storage which is not offered even by many high brands and also you can attach external storage using the USB port increasing the storage capacity. At home and small business even the built-in 4 TB can be enough.
Talking about the simplicity, the whole setup procedure is very simple and easy. You only need to plug in the power cable, connected your device with plex server and here it's ready to go. Likewise you don't need to download any special application or OS to run it. Because the whole setup can be done using the easy Web Management system which is discussed in details above.
What We don't like?
The Buffalo TeraStation 1200D may be a perfect solution for home based or small-scale business storage issues but it is not even an option for high caliber enterprises. It is not built keeping in mind very high storage situations and may fail in such cases.
Also, the speed is main issue as everyone search for a speedier solution. It uses only 1.2 GHz of ARM processor and the RAM capacity is very low as compared to the price it is charging. So, if the data is heavy it takes more than enough time during read and write operations.
PROS
Simple and beautiful design

Easy Setup

Easy to use Web Management System

Good Back up and data recovery

Free personal cloud that can accessed from PC or MAC
CONS
Costly Comparative to the features and overall performance

Speed issues

Not fit for High-level business



WD is a famous brand when it comes to producing quality network attached storages. Their Cloud Ex2 NAS for Plex that can accommodate two 3.5in hard disks is cheaper than some of the good NAS for Plex. You can buy it both with or without hard disks. The version having hard disk can possess memory of 4TB, 8TB or 12TB depending on the price of NAS.
The data is mirrored in both disks using the Best RAID for NAS, RAID 1. The redundancy in data gives you an edge of data backup. If, by chance, you lost data in one disk, it is still there in another one.
It has a clear and sleek design with a simple vibrant front having no ports while at the rear side you will find two USB and one Ethernet port. It does not contain any on/off button. To add or remove the disks you can open up the latched top by pressing a quick button and then unscrewing the retaining bracket.
We have discussed the beautiful sleek design but let see what features does it offer and how the overall interface looks?
WD MyCloud EX2 NAS – Features and Interface
Unlike other famous Network attached storages form manufacturers like Synology or QNAP, the operating system it uses looks more like a desktop OS or windows as it offers tabs, icon and sidebars making it easier to understand. From the home tab you can setup your whole storage and divide it into different sections of your choice like multimedia, applications etc. From the User tab you can add or remove users and do a lot of configurations. Likewise you can also get a network sharing tab just by inserting a USB disk.
There are also pre-installed apps that can be used to download files services like HTTP or FTP. The FTP helps in backing up the data to the EX2 even from remote servers. You will also get different streaming options in form of a DLNA Server which is integrated EX2 and Logitech multimedia server for multimedia streaming and a Plex server that will work out your downloading needs.
NAS Performance is the most important aspect that should be considered while buying it for plex server. Talking about EX2, it is one of the best performers in very reasonable prices. The writing speed using RAID 1 can reach up to 99 MB/s and reading speed can touch sizzling 110 MB/s. It uses 1.3 GHz dual-core processor and 1 GB of RAM.
What We like?
Comparing with the best manufacturers in market like Synology and QNAP, my cloud EX2 plex by WD is very cheap and performance-wise not very less than them. Its overall speed catches up with the best Network Attached Storages and also offers relatively a fair amount of storage capacity.
The overall design impressed us a lot. A crystal-clear front only having three indicating lights of power, disk 1 and disk 2 and a WD logo with My Cloud EX2 ultra name, all on one strip. It does not contain any extra ports or buttons that can cause confusions. The disk can be inserted just by pressing the quick button above the sliding clip.
Setup of My Cloud EX2 Ultra is very easy, you only need to plug in your NAS and switch it one and then go to mycloud.com/setup. You can choose the name for your device, set up password and also can set up my cloud accounts. All this setup is as easy as walking in a park.
Also, we really liked the user-friendly operating system interface. It does not contain any hard to understand settings. Everything can be configured using the tabs and sidebars like windows operating system. This User-friendly OS make it easy even for non-IT users to configure my cloud EX2 Ultra.
What We don't like?
Though it is much cheaper than most of the Network Storage for Plex available in market, it does have limitations. First of all, it does not offer the vast variety of Apps like Synology. The Apps offered by it are very limited and can only be used to download other applications. It also does not show support for many distinctively used third party applications.
Something which bothered us a lot is, it does not come with any power button and to turn it on and off, you will have to go through the hectic process of web interface. We would have loved to have a power button to turn it off rather than going to web interface and shutting it down from there.
PROS
Excellent Back up

Best budget NAS

Easy Setup

High Storage Capacity

Beautiful Design
CONS
Very limited collection of applications

Almost no support for third party apps

Not fit for large scale businesses

No power Button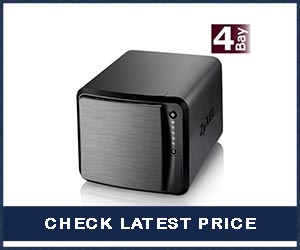 NAS540 4-Bay Personal Cloud Storageby ZyXEL is the first ever 4-bay NAS developed by ZyXEL. You can create your own personal cloud with it enabling to work with different multimedia files, documents and other type of files just by connecting to the internet. It provides you connectivity with smartphone operating systems like iOS and Android allowing its synchronization with different cloud services like Google Drive etc. Also, it is compatible with Windows, Linux, Unix and Mac operating systems.
The NAS540 is powered by 1.2 GHz Free scale dual-core FS1024 (M86203G12) Processor, having 1 GB DDR3 RAM and possess 4 SATA II drives bays accepting both 3.5" and 2.5" hard drives. A pair of Realtek RTL8211E Gigabit Ethernet ports helps in delivering of a fast network transfer speed. It also contains 3 x 3.0 USB ports for the connectivity of external storage or any other external connectivity.
The support it shows for RAID 0/1/5/6/10 and RAID5 + Hot Spare volumes will free you from you concern about performance and data redundancy or the combination of these two. You can also enjoy videos, music and watch photos using apps like Samsung TV or Bubble UPnP on your TV using the built-in media server feature.
Inside the box you will find network attached storage device, an ethernet cable, a power adapter and a user guide that will help you in setting up your device correctly.
Zyxel Personal NAS 540 – Design & Performance
NAS540 4-Bay Personal Cloud Storage is one the best high-performance networking hardware all thanks to its 1.2 GHz dual core processor and 1 GB of DDR3 RAM that helps in managing the intensive management tasks and increase the overall efficiency. The 3 USB 3.0 ports can be rarely found on any NAS, making NAS540 one of the fast-connecting device to external storages.
It is designed in a way not to get too hot and to keep the drives cool increasing the overall product life. Cooling is achieved by a 120mm fan pushing more air and eventually cooling the drives, not producing much noise. The design and specifications allow NAS540 to be a cool and quiet hardware at the same time.
Different cloud services like zCloud by ZyXEL or ownCloud can be accessed on your NAS540 with your mobile devices and you can watch your videos or checkout other multimedia files using from anywhere just by connecting to your network.
What We like?
While buying any NAS, the first priority is always the product life, by using a 120mm fan to push out warmer air and expose the device to a cooler air, the NAS540 not only stay cool and prolong its overall life but also does not produce any annoying noise that can be produced using relatively small and fast fans. So overall, it is a quiet yet cool piece. Moreover, wherever you are placing your NAS, you can install a mini hidden camera so that you keep an eye on any
Also, it's support of external storages is exceptionally good. By providing 3 x 3.0 USB ports and also a port for SD card, the data can be transferred and stored in a faster and secure way and also the backups can be taken more easily.
With number of storage devices, the issue of data redundancy raises sometime as you won't like same data to occupy space twice or more. NAS540 free you from that headache by providing support for RAID 0/1/5/6/10 and RAID5 + Hot Spare volumes.
What We don't like?
This NAS can only support up to 24 Terabyte of maximum data because of 4 x 6 TB SATA III hard disks it can support, which is comparatively low for a 240$ NAS device.
PROS
Good support for external storages

Best RAID Configurations

Durable
CONS
Design is not very good

Can't support more than 24 TB of internal storage



Intel Celeron Quad-Core 2.0 GHz processor, a 2 GB of DDR3L primary memory, SATA 6 GB/s and 2 Giga Lan turns QNAP TS 251 Personal into one of the best Network Attached Storage for Plex server. It sizes 170mm in height, 255mm of depth and 102mm in width and can be placed anywhere on table or a shelf. It is also having other variants having more RAM and storage capacity.
A solid shinny black color having a glossy trim, having two sliding trays for hard disks in front with a 3.0 USB port gives it a pretty catchy look. On the rear find houses a connector for small external power supply, another 3.0 and two 2.0 USB ports, a dual Gigabit Ethernet, a cooling fan and an HDMI port for multimedia outputs. Turning to the front again, you can find one-touch copy buttons, status LEDs and a power button.
Writing a mixture of different size files that bulked 8GB of overall size, the speed touched almost 56MBps while reading them at 36MBps. When we tried to write a single large file of 7GB size, the speed even reached 110MBps and reading the same file took the speed to 96MBps.
The operating system of QNAP provides phenomenal features. The web interface is a user-friendly Graphical user interface. In addition to all traditional access and network protocols like Telnet, FTP, SSH etc. it also provides services like web and mail serving, Video surveillance, Content manager, XBMC multimedia playback, DLNA, cloud backup and iTunes.
QNAP TS 251 Personal – Special Features
There are two special features offered by QNAP TS 251 Personal that are not offered by every other NAS, an on-the-fly and offline video transcoding and its capability to run on Virtual Machines.
In the on-the-fly transcoding, you can add multimedia files to your TS-251 Network attached storage, run an app by QNAP named as Qfile which is available for windows, iOS and android phones and can play the video or pictures on your portable devices. The transcoding is usually used by mobile phones because PCs and Macs contain their own multimedia codecs and does not require any transcoding.
QNAP comes with its on virtual machine namely QNAP's Virtualization station which is almost similar to using VMWare and VirtualBox. It is used via a web browser remotely. However, you will need more than 2GB of RAM to run Virtualization station. You can create your own Windows or Linux VM from scratch.
It is indeed a recommended NAS for plex media server keeping in mind all the features it offers along with a high speed and a good storage capacity. It is expensive but worth buying because you can host your own mailing service and website with it and can run multiple operating systems using the Virtualization station.
What We like?
For us, QNAP TS-251 personal is among the few best NAS for plex server available currently. The vast amount of applications and services it offers is something you won't find in everyday network attached storages. You can host your own website and mailing service with it, control video camera for surveillance and other so many capabilities you need to exploit.
We really loved the on-the-fly transcoding feature offered by it. Now you can even watch the videos whose extensions does not match your mobile phone's supported extensions. In short, just load your files, enable the media serving and transcoding and watch your favorite videos remotely on your mobile devices.
With the Virtualization Station, we were able to make our very own Windows Virtual Machine and it worked very well. We were able to assume our window remotely from any location which is very impressive feature.
Also, it is designed in a way to provide ease to users. With Two 3.0 USB ports one in front and another on the back and two USB 2.0 Ports on the back you can insert multiple external drives to it. The hard disks can be inserted or removed from the device just in fractions by pulling out the sliding trays.
What We don't like?
Though there is nothing much to dislike about this remarkable Network attached storage device, still one thing which we noticed and which unrested is that it quite hot during long hour use. The fan does not cool it down as much as you may expect but that is really not a big issue keeping in mind all the great features it offers.
Also, it is really not a recommended device for those who cannot leverage its capabilities to the fullest because of its high price. It does offer a lot of features but you should be able to take full advantage of it, otherwise you are wasting your money and should choose a relatively cheaper NAS.
PROS
QNAP Plex transcoding feature

Ability to use Virtual Machines

A high-performance NAS

Offers web hosting and mail server

Rich with protocols and utilities
CONS
Get hot when used for extended hours

Costly, if all features are not known and used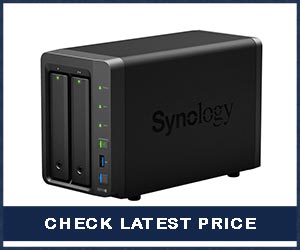 The NAS DS 718+ is a 2 Bay high-end network attached storage with Intel Celeron J3455 Quad core 1.5 GHz that can burst up to 2.3 GHz and a 2 GB DDR3L-1886 RAM that can scale to 6 GB. The 2 bay Built-in storage can scale up to 7 drives with a Synology DX517.
In the card board packaging, you will get an AC cord, two ethernet cables, a power brick, an installation guide, set of screws and a pair of plastic keys that are used to lock the trays along with the NAS itself.
On the front side of the device you will find three LED indicators one for the current status of device and two for the status for LANs. Also, there are two buttons one for copy and another for power on and off along with a USB 3.0 port. Rear end is home for two ethernet ports along with a couple of USB 3.0 ports, a power socket and an eSATA port. It comes with two drives inside the trays which can be pulled out by opening the lock on tray with plastic keys and also contains LED light to indicate the present state of both drives.
It supports best RAID for NAS, RAID 0, RAID 1, Synology Hybrid RAID (SHR) and JBOD and can support RAID 5, 6 and 10 if expanded to five Bays. You can create up to 256 user groups with it accommodating 2048 users. It also supports on-the-fly video transcoding like QNAP TS 251 personal NAS with a 4K video quality allowing you to stream videos from any of connected device in HD.
Synology Bay DS718+ – Features
The operating system used by all other network attached storages known as DiskStation Manager (DSM) OS is used in DS718+ also. It is web-based user-friendly operating system, the interface looks much like windows. Using this DSM, you can easily create and share folders, manage storages, configure drives and do easy settings according to your needs.
Synology is rich with applications as it offers applications for your all needs inside the package center. You can download number of applications for multimedia like Plex media server or Synology Video Station. Similarly It also offers iTunes server package for apple ecosystem.
If you are a developer you will be happy to hear that it offers version control software like Git and SVN and database software like MariaDB. So you can use it as a NAS for Linux. Besides, you can also download and install different third-party applications as Synology DS718+ shows good support for it.
Installing and configuring the Synology DS718+ NAS is very easy. Power up your device after installing drives and attach it to the router or plex server. Download and install the operating system we talked about above and create an administrator account in it. You can also create a quick RAID volume and then set up shared folder to test check if it is working.
Overall it is a highly recommended NAS with a great performance. The read and write speed can reach up to 226 MBps and 180 MBps respectively with encrypted sequential throughput as claimed by Synology, but the speed vary depending upon the size of file and number of files.
What We like?
What we liked and loved about all Synology NAS is its high performance. It beat every other NAS with the speed it offers because of its Quad Core Processor and a 2 GB of DDR3L RAM which can be expanded up to 6 GB. The read and write speed do vary than what is claimed by the manufacturer but still beat QNAP TS 251 and other NAS by a fair margin.
Also we really loved its easy to understand and user-friendly DiskStation Management Operating system. You do not need to by an expert IT geek to understand and use it. All the settings are simple and you can roam with ease using the sidebars, menus and icons and set your device according to the needs of your business.
The applications offered by Synology are so many that it covers all the interest areas of users. From multimedia to web designing, From File transferring to database management and application designing it has got you covered. Its support for third party applications is like an icing on cake.
What We don't like?
It is costlier than every other 2- Bay NAS as the storage capacity is too low compared to the price. Though, it is expandable up to 7 drives with Synology DX517 but it will cost even more than the DS718+ itself. Expansion of memory will also cost more.
It does come with a lock for drive trays which can be opened using the plastic keys but the overall coating is of plastic which is not very safe and secure. It can be forced open and not very durable to sustain some hard shocks.
PROS
Rich in features

On-the-fly 4k video Synology plex transcoding

Easy setup (Synology quickconnect)

User-friendly Interface

High Performance

Low power consumption
CONS
Does not come with hard drives

Expensive

Low Storage

No HDMI ports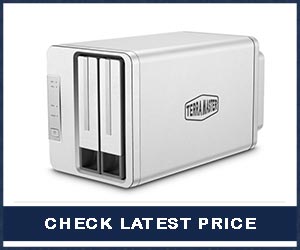 A Famous headphone selling company Noontec jumped into the market of network storage devices with a name of TerraMaster by producing F2-220, a two bay 2.4 GHz Dual Core NAS having 2 GB of RAM that can be expanded to 4 GB.
The design somehow shows similarity with the QNAP TS 251 and Synology DS 718+ having two drive bays on the front side having no locks. On the front, you will also find LED indicators for both hard disks, LAN connectivity and power status, a power button and an intel inside sticker on the left bottom corner. On one side of the device a big logo of TerraMaster is placed. At the back there is one USB 3.0 and a USB 2.0 port, a Giga network interface port along with power interface. An 80mm fan is placed at the back to cool down the device while operational.
Along the device you will get an ethernet cable, two set of screws and a screw driver, a guide and warranty card. The adapter of power supply is manufactured by KeZhen Electronics and gives an output of 12V.
TerraMaster F2 – 220 – Setup & Performance
The setup is simple and easy, after connecting your NAS with network and providing power, log in to the web interface that looks much like a web desktop used by many brands using Linux OS. You'll need to download the TerraMaster operating system Shortly known as TOS. You can set device name, password, time zone security email etc. after installing TOS
It possesses features like SMB, Virtual Storage, Email server and web hosting. It also possesses iTunes, Plex media Server and a DLNA covering stream to any connected device. It uses RAID 0, RAID 1 and JBOD for the operation of drives.
Performance-wise it is an average performing NAS for Plex device. With 2.4 GHz of dual core intel j1800 processor, a 2GB of DDR3 RAM and 2 drive bays, it can achieve the writing speed up to 105 MBps max and reading speed of 112 MBps maximum. The drives are 3.5" and 2.5" SATA Hard disks or SSD.
What We like?
We were impressed with the cheap price and how it offers a faster CPU and more RAM in less price than many of famous brands like Synology and QNAP. The usage of CPU is limited by external factors, as it is even capable of running more hard drives and many users at same time.
The other thing which we really liked about F2-220 is the sleek and simple design. The tray does lack a lock but can be easily operated. The LED indicators help you in knowing the current status of your both drives and if your trays are not installed correctly you can know in seconds. The 80mm fan is very quiet and the device does not warm up too much.
TerraMaster operating system is very easy to download, install and then use. The interface is simple and understandable with a lot of instructions come your way when you are changing your settings. Overall TOS is a user-friendly operating system.
What We don't like?
We would have loved to have HDMI port and an eSATA port which TerraMaster F2-220 has. May be because they didn't want the device's price go up. It also lacks any USB port in front and only possess one USB 3.0 port at the back.
The applications provided by TerraMaster are very limited in number and cannot compete with some high brands like Synology. It does not have any good applications for mobile or network printers. The iTunes and DLNA features also does not work as per expectations.
PROS
Cheap price

High performance processor

User-friendly Operating System

Low power consumption

Beautiful design

Recommended NAS for small Business
CONS
Limited Apps

No HDMI and eSATA port

No app dedicated for Backup



Netgear is famous for producing high-performance quality Network attached storages. Readynas RN214 is an amazing Network Attached Storage manufactured by them. It is a 4-bay NAS having a bulky shape and contains a quad core cortex A15 1.4GHz processor with 2 GB of RAM. It can hold up to 8TB of storage capacity per bay making 32TB of total storage capacity. The drives are supported in SATA/SSD 3.5 inches or 2.5 inches configuration.
It is a bit chunky but very beautifully designed with a glossy and shiny front having NETGEAR written in the middle. At the top front there is power button, a USB 2.0 port and button for quick backup. On the back side there is are two USB 3.0 port, an eSATA port just below the USB ports and 2 Gigabit Ethernet ports. A big cooling fan is also placed at the back. On the bottom side of front, a small LCD screen is also placed. The drives can be removed and swapped by opening the front glossy lid exposing all 4 bays.
Initial setup of Netgear ReadyNAS RN214 is very easy, Insert the drives in bays (the device already come with 4 x 1TB hard disks), give it power and sign up to Netgear's ReadyCloud web-based portal to configure it. The interface is user-friendly and will inspire you to use your device more like a plex cloud storage.
NetGear ReadyNAS RN422 – Applications and Transcoding
Netgear ReadyNas as already discussed in reviewing RN422 is very rich in offering applications and can even compete with SYNOLOGY in this aspect. The iOS and Android apps allow auto-uploading of videos and images same like Google One Drive. A built-in DLNA media feature is well-developed and works swiftly with both mobile phones and PC-users. Furthermore it also shows a good support for third-party applications like Joomla, WordPress, BitTorrent and Drupal etc. In other words, we can say that it is a famous NAS for Plex media server.
It is best for connecting external drives having 3 USB ports and one eSATA port which also helps in easy backups. Link aggregation is achieved through dual Gigabit Ethernet.
With the real-time transcoding, a feature by NetGear ReadyNas RN214, you can watch and stream videos, movies and your favorite TV shows on your smartphone, tablet or laptop in 1080p HD quality. Because Plex media server, a software is integrated with this feature to give you a real-time non-buffering HD streaming. Setup of plex media server is very easy, after signing into the ReadyCloud account you just need to visit the admin area and install the app. After that open the app, create an account and enjoy.
With a price just below 380$, NetGear Ready NAS 214 is a fine performing NAS with a number of good features, an easy setup and secure Backup. The read and write speed is near 105 MBps and the processor is a fast performing making it a good deal.

What We like?
Either its RN214, RN422 or any other NAS by Netgear, the richness of applications is what we liked most. To sum up, Netgear has got covered every aspect of your computing need. It possesses good applications for basic users like multimedia and back-up applications. It is a recommended NAS and best budget NAS for programmer and developers because it provides number of such applications. Plus it supports third-party apps like WordPress, joomla etc.
Some people need a lot of storage, Netgear ReadyNas RN214 is a high storage device that can support up to 32 TB of storage. Additionally, you can connect 3 external drives at same time using the USB ports.
We must praise its backup functionality as it offers number of dedicated applications for backup. You can keep your redundant data in any of the four drives or can also move your data to external storages.
NetGear is astounding when it comes to cloud support. You can cloud your data to ReadyCloud in a same manner like Google OneDrive or dropbox and can use it remotely from anywhere. In addition, your videos and pictures can be auto-uploaded to the iOS and Android applications if you allow it.
Also, what we liked is the on-the-fly, real-time video transcoding with the help of which you can watch your favorite videos with any of your connected device. The transcoding is so cleanly done that there is no sticking of video or drop in quality of video and you can even transcode 1080p HD movies.
What We don't like?
Without any doubt the design looks catchy but still it is very bulky and huge and will occupy a lot of table space. The LCD screen in front is not very clear and most of people won't like it. Also, the upper top of front side is very crowded and should have been designed with more clarity.
NetGear have used ARM Cortex A15 processor in build of RN214, which is slower than Celeron processors: the one used in QNAP products. It does affect the overall performance specially the read and write operations of files.
Though it is rich with applications and is a recommended NAS for expert users still it lack email servers and you can't own your mailing service while using it. Still, it won't trouble many people as we have seen most of them avoid having own mailing services.
PROS
High Storage Capacity

Rich in Applications

1080p Real-time video transcoding

Easy setup

Cloud and back up services

Recommended NAS for small Business
CONS
Huge and bulky

A bit shaky in performance

No Mailing server



Recommended to Read: Best Wireless Headsets
RN212 is from the famous RN21X family of NetGear ReadyNAS. We have already reviewed RN422 a two bay NAS and RN214 a four bay NAS, RN212 is more or less like RN214 with an exception that it is a 2 bay NAS device.
It is more beautifully designed than RN214, with a glossy shinning front side and a piano black finishing. At the left side of front houses, a USB 3.0 port, a power button, a one-touch backup button and a number of LED lights. The glossy window on the front to expose both the bays which can be slide opened by pushing small buttons just beneath it. Around the back you will see two USB 3.0 ports, an eSATA port and two giga Ethernet LAN ports. A reset pinhole and Kensington lock also dwell on the back of device.
It is 8 inches deep 4 inches wide and 5 feet 6 inches tall device with a 291$ price if you are buying it diskless. Moreover, It can support up to 12TB of storage and have a Quad core cortex A15 1.4GHz processor with 2GB of RAM making it a powerful NAS.
NetGear ReadyNAS RN212 – Interface & Features
Like any other NetGear NAS RN212 also uses the ReadyCloud interface. The initial setup is very easy as a simple to understand wizard will guide you through the whole process. For instance, to visit the startup wizard, connect your NAS to router or switch and go to Netgear ReadyCloud and from here you can set name for your device, set password and do other basic configurations.
The interface of ReadyCloud (as already explained in RN422 and RN214 sections) is very simple and different settings are divided in number of sections like system, shares, accounts, network, apps, cloud and redundant backup. The administration window shows all the basic information like running applications, amount of storage available, firmware version etc. As it is a 2-Bay NAS you can only select between RAID 0 and RAID 1 while setting new volume.
The major feature that is a pivotal point in selling of RN212 is its ability of transcoding 1080p video, making it the only NAS with ARM Cortex Quad core processor along with RN214 that allow real-time transcoding. The transcoding when we tested was up to our expectation and was not mere a claim by manufacturer. Along with transcoding it also supports DLNA, iTunes and plex media server.
The richness of application of NetGear can also be seen in RN212 as it offers number of iOS and Android apps. There is a decent selection of apps like anti-viruses, Dropbox connection and application for backing up to iDrive and cloud services. It does lack the ease-of-access to third party applications and are not placed in one page to select.
Overall, an average NAS with a good speed and fast performance but very limited capacity and also glitches in third-party applications. It can be your first choice NAS storage for home.
What We like?
We are always against the bulky and heavy sizes of NetGear Network attached storages except RN212 which is perfectly sized, beautifully designed. The piano black shinny finishing is very eye-catching. The design provides a number of options for external drives connectivity on both front and back side of device.
It is our favorite when it comes to taking backup of your data, you can save your redundant data on the 2nd drive as well as on any external storage device. It also offers applications assisting your backup plans. The Cloud services provided by NetGear are very impressive and you can back up your data even remotely.
What makes RN212 a very good purchasing device is its feature of real-time transcoding of 1080p HD videos. You can now watch any video from your NAS with VLC of your laptop or media player of your iPhone and smartphones connected to the network. The video output is very clear, quality is not shattered and the video runs smoothly without any buffering.
What We don't like?
Though it is a good performance NAS but we have a serious problem with its low capacity. 6 TB may be is fine for home but can not fulfil the needs of even small-scale businesses where there are number of users connected to network. If you are looking for a NAS for your business then go for NetGear RN214 rather than RN212.
We also faced problems with downloading application like BitTorrent and other third-party applications. First, we couldn't find our all desired applications in the list. Secondly, we faced problems during installation and were exposed to some errors which solved after restarting of device. After that there were some glitches during running of such application like BitTorrent.
PROS
A fast-performing processor

Easy setup

High number of applications

Good Support for backup

Cloud Services

1080p HD Transcoding
CONS
A bit pricy compared to what it offers

Low storage capacity

Glitches in third party applications



My Cloud Pro Series PR4100 by Western Digitals or WD is a 4-Bay NAS with an Intel Pentium N3710 quad-core 1.6GHz processor and a 4 GB DDR3L RAM is a premium NAS solution for Small Scale businesses. It sits among the best 4-bay Nas for plex server. It is a best choice for prosumers like photographers, content creators and media lovers.
The design looks much more like that of SYNOLOGY and QNAP NAS' designs having all 4-bays in front. It is completely opposite to the clear and sleek design of previous WD NAS products. A small LCD screen is placed in front providing a real-time storage information. 4-hot swappable bays are also placed in front with LED indicator beneath every bay, giving you the option of expanding your storage capacity. A USB 3.0 port with one touch copy button is can also be found at the bottom of front panel.
At the Rear end of WD my Cloud pro PR4100 features duo of USB 3.0 ports, two gigabit ethernet ports supporting link aggregation, a big cooling fan and two power supply ports which is surprising for a NAS device. The device is overall not very quiet and well-ventilated due to ventilation on all 4-bays and additionally on either side of device.
WD MyCloud PR4100 – Hardware & Software Support
The hardware of WD PR4100 lock horns with the best of Synology and QNAP and WD has increased their support for many programs like plex and Apple time machine. For home users, it has currently the best value and best performing plex media server.
Software and user interface of any device specifically any NAS device plays a major role in its success. The My cloud Dashboard is very user-friendly and streamlined. Users can access the internal settings of device through the dashboard. To Access the dashboard, you will simply need to connect your device to the network and then write IP address of my cloud device in web browser. It can be accessed through smart phones even with more ease through My Cloud OS application. It does not contain so many applications like Synology and QNAP and has some official NAS mobile Apps of iOS and Android.
PR4100 is loaded with feature like multiple RAID configurations due to its 4-Bay nature, a 256-bit AES Volume encryption and the storage capacity can be expanded up to 32 TB. It is 232 mm in length, 170 mm in width and 192 mm in height and can operate with Windows and Mac operating system.
Overall, a perfect solution for users who need to save 4-5 GB of data per day like photographers and content creator as it is much better option than saving the data on cloud. It provides a good storage capacity along with high speed.
What We like?
First thing first, and that is the outer look. We liked the overall design and number of features available at the exterior. All the 4 bays are well-ventilated and can be removed easily. The Drives can be swapped even if the device is in operation and the data can be copied from USB through a single press of copy button. The LCD screen on the front provide you all the necessary details you would like to know about the current status of you drives.
The hardware built is also very fine and the Intel Pentium N3710 quad-core 1.6GHz processor and 4 GB DDR3L RAM can compete even with the expensive NAS available in market. Though the speed does not match some of the best NAS in market still it is a high performance NAS in this price.
The initial setup of PR4100 is very handy, and just by visiting mycloud.com/setup after switching on your device, you can do initial settings. You can choose the name for your device, set up password and also can set up my cloud accounts. All this setup is as easy as walking in a park.
It also provides for video transcoding using plex media server. Though the transcoding is not well established as in devices discussed before but still is worthy to mention that intel Pentium processor does not dedicate a section for this purpose like ARM or ATOM processor. So, it is very impressive by WD to include transcoding using Pentium processor.
What We don't like?
The applications offered by WD PR4100 are very limited in fact just few in numbers and here is where it lost to products like Synology or QNAP. WD need to work on this domain to make its product more competitive.
PR4100 also does not offer any Wi-Fi connectivity so you'll need to connect your device to router through ethernet cable and place it near it or use a long cord if you are willing to keep it further from the router. The Wi-Fi connectivity is not offered by many NAS devices so it won't be a big issue for those who does not care much about going wireless.
What concerned us most is the noise produced by the drives, may be because of the effort by WD do make it well-ventilated. The noise travels and it do travels in the pores made for ventilation. We personally do not like to keep noise producing devices on our table so it was a minus for us.
PROS
High Storage capacity

Support third party applications

Intuitive NAS management interface

Easy Setup

Upgradeable RAM

Excellent Plex media Server support
CONS
Less official or first party applications

Noise producing NAS

No HDMI Port



Nvidia shield TV Gaming Edition is not a normal day Network attached storage, instead it is essentially a full-featured streaming box running on latest Android Software. The support it shows for plex media server is very impressive and this is why it make it here to our list of best Network Attahced Storage for Plex server.
Gaming enthusiasts will surely fall in love with it as well as multimedia lovers because of its 4K HD streaming, blazing fast gaming console and a storage for multimedia files that can be watched on plex media server. Simply, you can turn this device in a 4K HDR home theater and enjoy the ultimate visual experience that too in 4K HD quality.
The box offers a high-end software, a variety of video applications, 4k HD streaming and an access to Nvidia GeForce gaming library making it an exciting yet affordable entertainment center. The upgraded Nvidia shield possess Oreo version of android. Possessing Nvidia Tegra X1 processor, a 3GB of RAM, an HDMI port and duo of USB 3.0 ports, Nvidia Shield TV is a fast-performing device providing a good support for external storage devices. The only limitation is the internal storage of just 16GB, but you can expand your storage by using external drives.
NVIDIA Shield TV Gaming Plex – Multimedia Plus Gaming
It comes with peripherals in shape of a shield remote and shield gaming controller. The remote is a sleek piano black shape, very light and feel comfortable to hand. It come with 4 soft buttons which are very handy during plex media server setup. You can pause and play your favorite movie or mute to pick up urgent call all from a fair distance from your TV.
The quality gaming controller is for gamers and is fairly different than those of cheap alternatives. The design is eye-catching and the device fit in both hands comfortably. It is also a wireless device that can be charged using a micro USB cable.
As it uses the 8.0 Oreo version of android, the ecosystem has a modern look. It has core integration with video streaming websites like YouTube and Google play music alongside the famous Netflix and Spotify for movies streaming, so that you can enjoy high quality videos. For the best result you should go for the plex media server and feed it your favorite videos.
NVIDIA Shield TV Gaming as NAS for Plex
As we are reviewing this device on the basis of its plex server feature, we must admit that it offers a best all-in-one plex solution by providing a full plex media server along with Android TV app. You can access the server even remotely with your Android, iOS and PC.
Using Plex media server is as easy as a walk-in a park and you don't have to do much to get it ready. Initially when you run the Plex client of your device, a prompt about Plex media server detection will come your way that Plex media server has been detected. To set it up, click on enable media server check box to check it. A window will open asking you if you want to create default libraries, check that box also. You will be then guided within an easy Plex media server setup from where you can select the necessary storage permission and use your Plex media server. Therefore you don't need to keep searching for how to use plex?
What We like?
We loved the overall device as it is an all in one solution. It is not only a good option for saving your multimedia data but also can be used for live video streaming, as a gaming console and as a plex media server. The video results are awesome with a 4K HD quality video streaming.
It comes with wireless gaming controller and a remote to control the TV from a distance. The gaming controller is a high performing, comfortable-in-hand, durable device with a good battery back-up. The remote also works fine, is light weighted and feel good in hand. In addition to all this if you just have a best wireless gaming headset, you just got a full gaming package to yourself.
The thing we loved most about Nvidia Shield TV gaming Plex and the reason it made to our list of recommended NAS for plex is its support for plex media server. Setting up the plex server is very easy and you can stream your favorite videos directly from the built-in storage. The quality of video was also not shattered even a pixel and if you have got high quality videos in your collection, you can sit on your sofa, control it with you remote and enjoy.
Beside plex media player it also has YouTube, Netflix, Spotify, Google Play Movies and Google Play music integrated into it. So now you can watch movies of your choice or listen to your most liked music track with an internet connection even remotely.
What We don't like?
Though overall it is a high performing device with a fast-performing processor, a good primary memory and a lot of feature still it lacks in one basic thing and that is storage capacity. It comes with only 16 GB of internal memory which is very less at least for a plex client. There is a 500 GB version of it but that is not very famous and difficult to track down in the market. You can only expand your memory by using external drives or USB connecting it with USB ports.
It is also a recommended device only for multimedia lovers and you can not use it for development or business purposes.
PROS
High performance device

Small, compact design

4k HDR Home theater

Dolby atoms and Dots-X surrounded sound output

One of the Best Plex media server

GeForce cloud streaming

Perfect TV Box for gamers
CONS
Very low memory

No smart home options

Not best for business purposes.



Network attached storages are without any doubt best solution for your storage capacity. Because of the huge sizes of high-quality video files, photos from professional cameras and big size games, you can't keep all your data on your PC or other computing device. You need a high storage alternative to keep your data safe and also to take regular backups of your important data. This can be achieved only with the best Network attached storages.
If you are planning to buy a suitable NAS, there are some questions, that may be and should be revolving around your mind.
What is NAS?
As we stated already, Network attached storage is a permanent storage solution for you. It is a high-capacity storage device that connects with your network and you can access the files within it from anywhere until you are connected to the same network.
What is the difference between NAS and External Hard drives?
It is right that you can save your important data in external hard drives and carry it around with you, but the main difference between NAS and external hard drives is that you can not connect the latter with your network and can't access the data inside it without plugging it into your PC or other devices you are using. While you can connect NAS with your network and can access the same data remotely from anywhere with multiple devices at same time, multiple users can access this data too.
What is RAID?
RAID stands for Redundant Array of Independent Disks (or Redundant Array of Inexpensive Disks). The concept and logic behind RAID is a vast topic. But basic function of RAID is to provide redundancy so if even a disk fails, your data is still safe. It actually increases performance as well as reliability of data storage. Three of the most popular levels are RAID 1, 5 and 6.
RAID 1 utilizes mirroring technique. Most NAS drives are having at least two bays, which means they can be arranged as RAID 1. Over here, the second drive is a mirror of the first one, so if one drive fails completely, the data is still safe on the other disk. You can then change the defective disk, and rebuild the RAID array.
RAID 5 utilizes both striping and mirroring techniques and offers parity data. You will require at least three drives in RAID 5 but it can work with up to 16. This means that RAID 5 array can survive a single drive failure without any data loss. As data is 'striped' across three drives, reading speed is fast, but at the tradeoff of slower writing speeds.
RAID 6 is almost similar to RAID 5, with a slight difference. It requires four drives but as it offers striping with dual parity, so even if two drives fail your data would still be safe.
But don't consider this as your final solution. Because whatever RAID level you have, if your NAS fails completely your whole data is gone. Therefore always make regular backups of your important data.
What is Plex Server and how does Plex work?
Plex or plex media server is a client-server digital media player with which you can access videos, music files and photos stored on your PC or on Network attached storage connected to the network, with any other computer or smartphone attached to the same network. You can access this data remotely and your computer does not need to be necessarily attached to NAS with a wire.
Setting up Plex server is very easy and you can set it up in just few steps. First, you need to install Plex media server on your compatible NAS device where your data is stored. Secondly, install Plex app on computers or mobile phones from which you want to access the data. Finally, launch the app, stream your files, sit and enjoy your day.
Functions and Advantages of NAS
NAS devices can be used for a number of functions like using it to share your office documents with coworkers or subordinates or just taking backup of your project files. Photographers, Vloggers and content creator may use it to save their bulky data on every day basis and then access it with different devices. Someone may need NAS to stream HD videos and movies from different devices using plex media server.
There can be different functions of NAS depending upon the different needs of environment it is installed in. Most importantly you must figure out what do you want to do with your NAS before buying it and then you can search for a suitable NAS. You will need a high specs, speedy and high-performance Network attached storages for Plex media serving which we have mainly focused on here.
What to look for in a Best NAS for Plex?
There are number of best NAS' available in market but if you are looking for Network attached storage for plex media server you should choose wisely. We have enlisted few major features which you should consider in any of the best NAS for Plex before buying.
Disks and Capacity
Transcoding and Speed
Ports
Data Redundancy and Backup
Applications
All these features are considered very important before making your final decision regarding Network Attached Storage. Check out our detailed infographic regarding Buyer Guide for Best NAS for Plex.
Recommended to Read: Best Portable Computer Monitors

Detailed explanations of all these features is given below.
Disks/Capacity
Transcoding/Speed
Ports
Data Redundancy/Backup
Applications
We personally do not recommend single bay NAS devices or one having limited capacity. As your data will be huge you should look for a NAS device with multiple Bays and expandable storage capacity. Some of the network storage devices come with hard drives already installed on it and some are diskless. You can buy diskless devices with or without hard drives. One of the first feature to look for is number of disks and their capacity. Depending upon whether you require NAS for home, or small business or a large scale, the requirements would be different. You should also plan for future ahead. Because if you are spending a good amount of money than you must buy something that can accompany you for years.
The total capacity can be determined by number of drives (bays in NAS) and their respective capacities. For example if there is 5 bay NAS and there are hard drives of 6 TBs (Tera Bytes) each. Then you will be having a total capacity of 30 TBs. There are always tradeoffs when looking for such amazing features. With more features cost surely increases. Therefore always consider your budget while going for a higher capacity. Because a large number of drives or more capacity of these drives will cost you much more.
Operating Systems of NAS drives are usually lightweight, so a good speed can be expected if an OS of a NAS is well designed. Moreover this question usually comes to mind that How powerful does your NAS's processor need to be? The faster a processor and more amount of RAM will ensure a faster transcoding.
It means that whether you want to play a media file on android, iOS, Mac or any other setup, you don't have to worry about a file format. As Transcoding feature of a NAS can readily convert it on the go. Moreover it is better to look for a NAS that is having a 4K or Full HD transcoding capability. Due to this your NAS will be able to play higher resolution videos smoothly. A good NAS device will operate a bit under 100 megabits per second (Mbps) and some high speed NAS can run up to 120 Mbps. A good rule of thumb is to buy NAS drive that is having reading speed greater than 80 Mbps.
As these NAS are to be used for Plex server so always go for the one that is having a gigabit Ethernet port. But don't just stop here as you have to use this NAS not only for Plex but also other media. For that purpose you must look for other ports that can come in handy and are requirements of digital devices these days.
HDMI Ports, USB Ports and SD slots are something you must not neglect. The more number of ports are, the better it is. As due to more ports, you will be having more connectivity options.
Also, keep in mind the data redundancy and data backup pattern for a NAS device of your choice. A good network attached storage will always provide better backup options, dedicated applications for data backup and data recovery and some of them also own their own cloud services. Multiple-bay NAS devices are also a better option when you want data redundancy, which means same data on two or more drives. If in case, data from one drive is lost due to some misfortunate incident it is not lost completely.
As each NAS is having its own OS. So inside software of each NAS you will find their own App store. Some of the applications are readily available as these are built in to NAS whereas others can be downloaded from Application Store of NAS, A best NAS for Plex server will be having a lot of multimedia applications that can prove really worthy.
You will also find android as well as iOS apps inside these app stores. These apps help a lot to manage your photos, videos and music from your phone or tablet.
Top Rated Best NAS for Plex
After checking all these NAS thoroughly and analyzing the specifications as well as getting reviews of practical users; we at DigiChasers selected SYNOLOGY 2 Bay DS 718+ as our favorite pick. Because of its Rich features, High performance, Noiseless design and User friendly setup.
There is always a space for improvement when looking for such amazing products. So in case if you think that we missed some other best NAS for Plex, do let us know here.