Hello DigiChasers, I have spent countless hours doing research about best drawing laptops. To be honest with you, I found a lot of information which was not always useful or accurate. At first glance, it looks like if a laptop has a pen, then it's definitely the right solution for digital artists. But is it really like that? The answer is NO and I will explain why.
Artists who already made a serious research know that laptops or tablets which have Wacom EMR technology is best for drawing on screen, but the fun thing is that in the marker almost all laptops and tablets do not have this technology. This raises the following question: If it's so amazing, why it is so rear?
Simple Answer – Price
Price is the main criteria for why Wacom EMR is so rare in today's laptops and tablets. By installing Wacom EMR technology into the device, its price increases exponentially, which discourages buyers from buying. That's why a lot of big companies use cheaper alternatives like Wacom AES and N-trig.
What is Wacom EMR?
Wacom EMR is Electro Magnetic Resonance technology which has superior drawing hardware. A lot of graphics designers are using this technology, without knowing it. The same active digitizers are used in Wacom tablets.
EMR technology is patented by Wacom's, and it is a technology that consists of a layer of sensors that sits behind the device's Liquid Crystal Display screen and a layer of hardened glass.
How does Wacom EMR work?
Using electro-magetic resonance technology, the pen display powers the pen by exchanging small radio signals. Scanning for the strongest signal, screen locates the exact location where the nib makes contact. Corners included. The result is an accurate, battery-free pen, ready whenever you are. In addition to tracking the pen, EMR also establishes the precise tilt of the nib. This gives you even greater control and reduces offset.
We also discussed Wacom EMR technology in a previous article: Wacom EMR Tablet List
Choose the right Laptop for drawing
Since the market is not rich in laptops with EMR technology, the choice is not very large. What you need to know is that Samsung and Wacom have been partnering for 10 years now, ever since the first S Pen made an appearance with the huge-screened by the standards at the time Galaxy Note. And yes, if you buy or already own a Samsung product with have S pen – it probably uses Wacom EMR technology.
Below is a list of the top 3 laptops with can-stand heavy programs like Adobe Photoshop, Illustrator, CorelDraw and other main programs with are used by digital artists.
Top 3 Laptops with Wacom EMR – 2021
This is a carefully selected list during which we drew attention to the most important things.
Key specifications:
Display: 15.6″ 4K UHD (3840 x 2160) widescreen LED-backlit IPS Corning Gorilla Glass
Memory: 16GB DDR4 Dual-Channel 2666MHz Memory
Processor: Intel Core i7-10750H 6-Core Processor (Up to 5.0 GHz)
Graphics card: NVIDIA GeForce RTX 2060 with 6 GB
Storage: 1TB NVMe SSD
Design
Hands down for Acer team with designated Concept D 7 laptop. Of course there is the obvious one which is the hinge. It's a pretty unique design, it essentially rolls over the hinge and can be placed in pretty much any orientation you like, you have positions – the standard laptop clamshell look, but you can also tilt it up for a bit better drawing. or you can drop it down for a bit more ergonomic drawing or even have it touch the surface for a proper dry experience, and you can also lay it flat like a tablet, or fold it over internally to show your work off to other people.
Performance
With this model, we have an Intel Core i7-10750H 6-Core Processor (Up to 5.0 GHz) which is an eight core 16 thread chip, and you also have an RTX 2060 for graphics, which is kind of insane. In terms of RAM, this model has 16 GB so you can get up to 32 or even ECC memory if you go with the Pro models, and you have a terabyte of SSD storage as well as you'd expect, that's plenty in terms of raw horsepower and for creative workloads it does really well.
Display
This is a Pantone validated display with is 100 percent adobe RGB covered IPS panel with a custom calibration preinstal with means the colors are vibrant, beautiful and accurate and means that if you want to do any leel of creative work from illustration sites more photo, video editing or 3 d modeling you're going to have a very good time with it, it's also a touchscreen with 4096 pressure sensitive levels using wacom emr stylus that's hidden in little cubby hole on the right side of the laptop.
Ports
In terms of connectivity, namely to Thunderbolt three ports which can be used for connecting fast external storage or external graphics or even just displays and hubs as well. And speaking of displays, you get a full size DisplayPort connection on this which is rare to see but quite nice. You will also get a full size HDMI. There is also Ethernet and obviously DC in a headphone jack to USB type A port and a full size SD card reader, which is a full size full depth reader, which means you could leave an SD card, locked in there, while traveling without fear of it being broken in half.
Drawing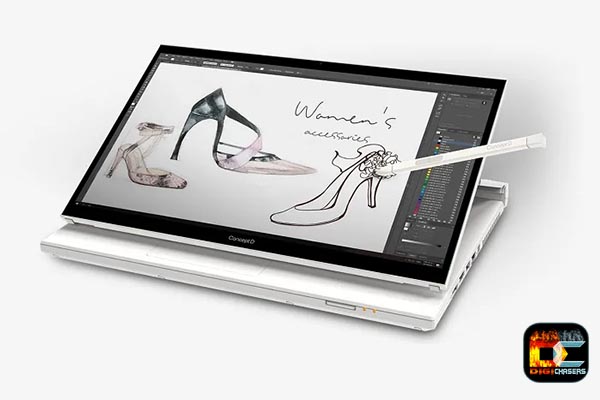 It is a drawing laptop, so everything is on a top level for this laptop. Wacom EMR technology works flawlessly for this laptop. For some users the pen is a little too small, it is not such a big problem, because you can order another Wacom pen from different tables. There is no jitter or any other anoing thing with can disturb you from drawing.
Overall – Pross and Cons
Let's talk about the pros and cons. The main pro is the convenience factor, the hinge makes it super easy to just pull down and draw without having to flip the whole device around. Sometimes these gimmicks, they just don't work out but here it does.
It's also a beefier laptop with a graphics card in it, a lot of these two in ones are really built for lightweight speed portability, that makes them great for art but if you want to use them for other things like 3d work or gaming or anything like that then, not so much whereas this one excels in that category.
And then of course the pen and the quality of the pen and the smoothness of the lines and all that fun stuff. Got to throw that into the pros category as well. The biggest con is the price you want for the ultimate Windows drawing experience. Well here you go, it now exists but man, do you have to pay for it. This is really going to appeal to some people but you don't need a machine this powerful to make great art, in fact most art and drawing applications don't need this much. So if you're looking at the price and you're completely terrified at this point I totally understand you don't need a $2,500 machine to do this.
It's a fantastic form factor. It's a fantastic machine, but it might be too much for many illustrators.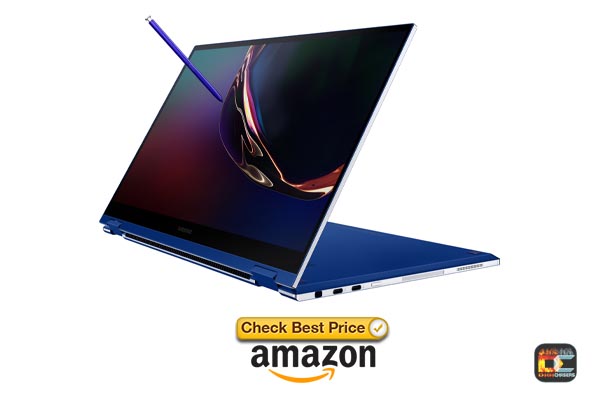 Key specifications:
Display: 13.3" QLED Display
Memory: 16GB DDR4 Dual-Channel 2666MHz Memory
Processor: i7-1065G7
Graphics card: Intel Iris Plus Graphics G7
Storage: 512GB SSD
Design
It does not have that amazing hinges like ConceptD 7 Ezel, so if you want to feel real drawing pleasure you need to use this laptop in tablet mode because in normal laptop mode there can be a lot of wobble when the screen is touched. Bezels look good, as well on the left right on top is a bit of a big chin down towards the bottom, however when you hold it in tablet mode it gives you kind of a place to rest your thumbs. Overall it is nicely designed laptop which due to its unique blue color can receive a lot of compliments from the surrounding people.
Performance
In terms of performance, everything I've thrown at this laptop has done well and nothing has lagged. Nothing has been slow, everything has been super responsive. When I use it the fans don't really get that loud which is nice. When I was doing very intensive tasks with Adobe Photoshop and Illustrator and playing games, fans remained silent. Battery life is amazing on this laptop, when I am doing light internet browsing the battery stands for more than 15 hours with is more than enough for almoust every user.
Display
It has a 1080P Q LED screen, and has an amazing display color pop, with looks really vibrant just about everything I've been looking at and just doing in general, everything it just looks so much better than regular standard display. I'm really enjoying this aspect of the laptop. This is a major selling point here, we also have the 16 by 9 aspect ratio here.
Ports
On the left side you have a headphone jack, one of the USB-C slot, and also a micro SD card slot for expandable storage. Along the right side you have two more USB – C connectors which are Thunderbolt connectors, power button and integrated S Pen.
Best Laptop for Digital Art?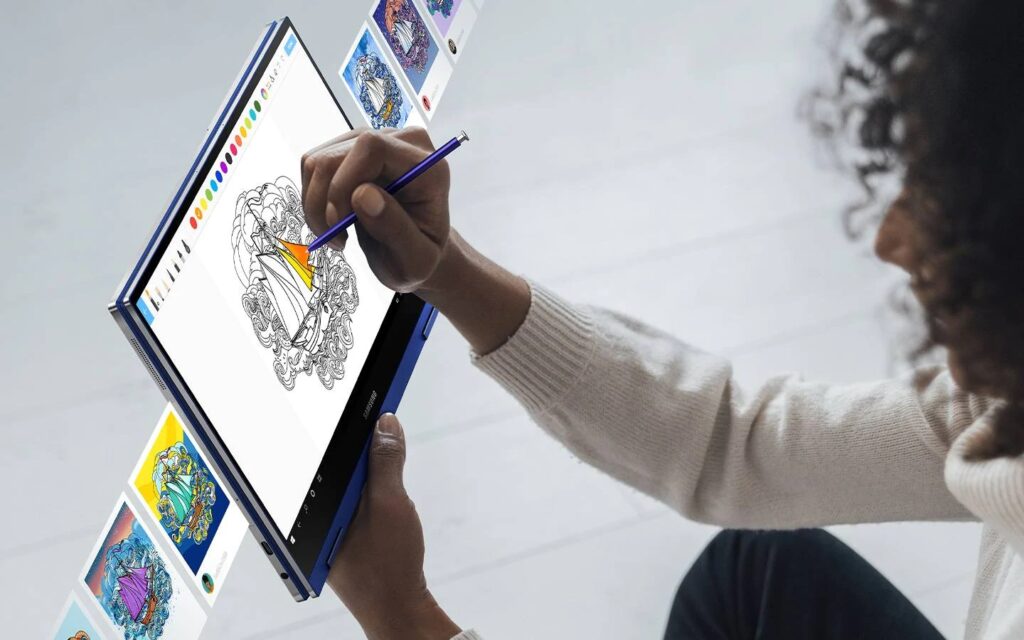 Wacom EMR technology makes drawing good, you can draw natural lines with it, at first you can get a little trouble when installing drivers for wacom, but when it is ready it is a very nice drawing tablet.
Overall – Pross and Cons
Overall i have to say I'm a big fan of this laptop, battery life's been great, the display is really good (obviously not a 4k display but that battery life coincides with that screen display) The biggest gripe I have like I said before is that wobbling hinge. This laptop is one of the best cheap drawing tablet with screen.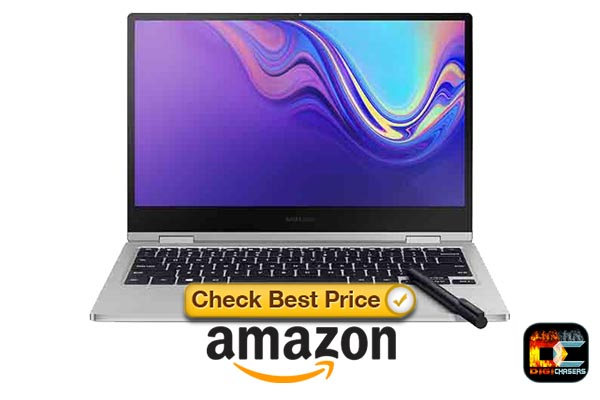 Key specifications:
Display: 13.3 Inches
Memory: 8GB
Processor: i7-7500U
Graphics card: Intel HD Graphics 620
Storage: 256GB SSD
Design
THe Notebook 9 Pro has a pretty familiar design for Samsung, when we turn to the side here, we can see this brand new design that's really elegant looking. You know, every company is trying to come up with their own design language and this is Samsung. And it just looks really good. It's a very thin device. It's a very thin device, and one thing i really like about it is just how even though everything is straight lines everywhere, everything is parallel. It has really thin bezels, you still get a webcam on top. Just a nice design.
It has a 360 degree hinge so you can use it in tablet mode, which is the best mode for artists.
Performance
We did very well in short on conventional work benchmarks, also pretty well on our gpu intensive tests and surprisingly well on some of our CPU intensive tests. I would say overall that the performance on this is very good. One place where it stood out here was in battery life. It goes 590 minutes of life in our video rundown test, which is a really nice long time and should definitely get you through a typical workday. The nice thing is that you can charge this laptop using a USB-C connected power bank which might you use for oyur phone now.
Display
It have 13.3 inch full HD display, which is Samsung technology – amoled. Very good, it gets around 350 nits of brightness.
Ports
On the left side of the laptop you have two Type-C ports here, Thunderbolt 3 along with the headphone jack. On the right hand side, you get another Type-C port, just regular Type-C though, and the power button combines with a fingerprint reader, so it's all built into one. There is also a micro SD card slot, which is becoming increasingly very rare on 13 inch laptops like this one.
Drawing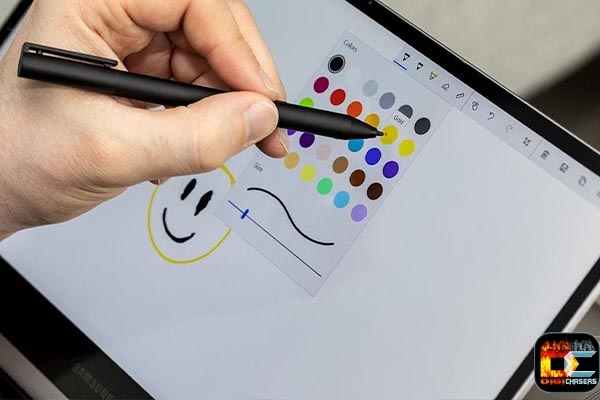 What would be a modern Samsung device without a pen, it wasn't the small S-Pen that comes with their other models that fits into the device itself. The Samsung Notebook pro 9 S-pen has more proffesional grip and it works very well. It's S-Pen technology and it's just very good, very fluid.
Overall – Pross and Cons
Samsung really tried to balance everything out right to give you a good performance with good features without giving you something that's too heavy or too hot. Maybe it is not a performance beast like ConceptD 7, but due its price and Wacom EMR technology it is a really good laptop for an artists.
Editor's choice
If I had a big budget without thinking I will chose the ConceptD 7 Ezel model, but at the moment, I don't have this kind of money, so I prefer a cheaper Samsung Galaxy Book Flex 13.3. Maybe in future ConceptD7 models become more cheaper and then I will take one.
Frequently Asked Questions about Wacom EMR
Do Wacom pens need to be charged?
If it is a pure Wacom pen, then the answer is – no, because of Electro Magnetic Resonance technology it does not require additional energy, unless it is S-PEN with have integrated Bluetooth inside with requires battery power.
Can Wacom tablets work with laptops?
Yes, in it is a cheaper way to have tools with is suitable for drawing.
What is EMR touchscreen?
EMR technology is patented by Wacom's, and it is a technology that consists of a layer of sensors that sits behind the device's Liquid Crystal Display screen and a layer of hardened glass.
What is the difference between an active and passive stylus?
Main difference is that active pen needs a electronic components whose signal witch is picked up by a mobile device's built-in digitizer and transmitted to its controller.
We hope you like this article, and if you have additional questions you can always leave a comment or write to us in person.