Having a good power supply unit (PSU) is very important in PC Building. If you're trying to find answer which is better Corsair RM vs RMX, then you are already on the right track, because these both PSU is graded 80 Plus gold certification levels. Which means that no matter which one you choose, you should achieve great performance in the end.
But if you still have trouble deciding between RM vs RMX corsair PSU, then we will try to help you to make a decision.
Which is better, Corsair RM vs RMX?
Corsair RM PSU is a little older than RMx, but still has a great value in terms of how much it costs. Corsair RMx is a newer version of RM series PSU.
Both RM and RMx are modular PSU, which provides an additional option when bundling a computer. If you compare the performance of these two PSUs, the RMx is a little better, but costs a bit more.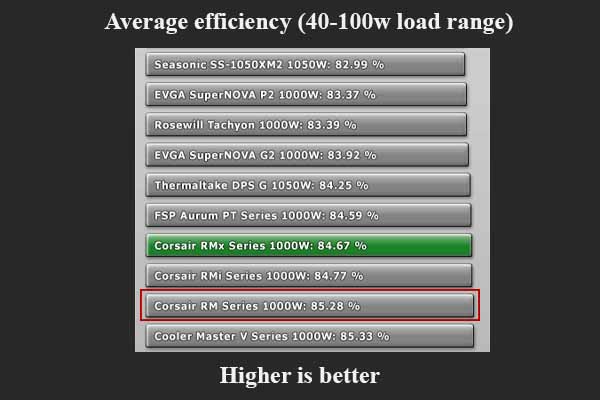 For example, Corsair RM series 1000w PSU average efficiency (40-100w load range) is 85.28% and Corsair RMx series are 84.67%. 40-100w load range is not big, and in this load RM is little better.
When load diapason is bigger, from 20-100w load range, Corsair RMx gives a slightly better numbers. RM series 92.05% and RMx 92.06%.
Corsair RM uses a rifle bearing HongHua fan, where RMx uses a Corsair designed low noise rifle bearing fan, which is noticeably quieter. Also, RMx series PSU have capacitors in the cables, which gives about 10mV higher ripple, and RM series does not have capacitors in the cables.
Both PSU series have Modern Standby option, which allows you to optimize your computer's work.
RM series and RMx series cables
Corsair RM and RMx have different 24-pin, RMx uses the Type 4 design and has capacitors.
What is 80 plus certification?
To get 80 plus certification, manufacturers send samples of PSU to voluntary certification, which is made by Ecos IQ, Inc. To get 80 Plus certificates, they must have at least 80% efficiency at three load levels of 20, 0 and 100 percent of loading.
| | | | | |
| --- | --- | --- | --- | --- |
| PSU @ 115 v | 10% Load | 20% Load | 50% Load | 100% Load |
| 80 Plus Standard | – | 80% | 80%/PFC 0.90 | 80% |
| 80 Plus Bronze | – | 82% | 85%/PFC 0.90 | 82% |
| 80 Plus Silver | – | 85% | 88%/PFC 0.90 | 85% |
| 80 Plus Gold | – | 87% | 90%/PFC 0.90 | 87% |
| 80 Plus Platinum | – | 90% | 92%/PFC 0.95 | 89% |
| 80 Plus Titanium | 90% | 92% /PFC 0.95 | 94% | 90% |
Both RM and RMx have 80 Plus Gold certification level, which means they are really effective.
RM and RMx on Unofficial PSU tier list
In the pc world, there are many geeks who deeply examine various aspects of computers. We found invaluable information which can help you when you are choosing for a new PSU.
PSU tier LIST
On this forum you can find both PSU RM and RMX which accordingly fall into the A tier list of PSUs. If you want to check this list, press this URL.
What power PSU do I need?
The more W power the better, as having a reserve is always good. But if you want to calculate accurately, you can use a PSU calculator. We only advise you to always use a PSU that is slightly higher than the number obtained after the calculation.
Corsair RM and Corsair RMx price
Corsair RM and RMx price is very similar, so if you pay a few USD more, you can get a newer and more quieter PSU. You can check amazon links for price and make your comparison.
CORSAIR RM 850 costs 119.97 USD and Corsair RM 850x 128.99 USD. In this case, price difference is not so big, not even a 10 USD.
Author Recommended Reads:
Conclusion
Corsair RM and Corsair RMx, both are high quality PSUs, just RMx is a little bit newer and quieter. If you find large price differences between these PSUs, then we would suggest choosing a better price ratio.
If you have more questions – feel free to write them in the comment section below, we will try to help you as soon as possible.